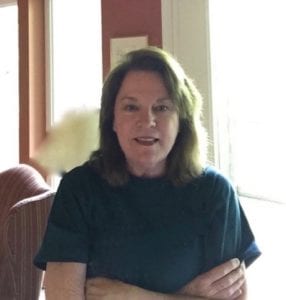 A few years ago I asked Lynn to join us as part of the permanent jury of the Biltmore International Rose Trials. I had always enjoyed her writing but outside of the occasional email didn't really know her that well – except of course that she was well qualified to be on the jury!
I'm glad I did and since then we have gotten to know each other better. Lynn and I share a passion for roses, for perennials, for mixing them up, for bees and a love of England. Her husband is a Brit and my late Mother-in-law was a Brit and my Wife and I love everything British.
Lynn's writing ranges to so many interesting topics that it's always a delight to see what she is going to blog, or write, about next.  Her own blog is called The Dirt Diaries but Lynn's writing resume extends well beyond that.
So, I'll let her tell you about herself. Lynn, over to you!
"I am a gung ho gardener mostly fanatical about roses, but will consider accepting other worthy and interesting plants into my North Carolina cottage garden (aka my "tidy mess" as the Brits like to say.)
When not up to my elbows in soil, I write about gardening for publications ranging from Fine Gardening and Better Homes & Gardens to The Christian Science Monitor. My blog The Dirt Diaries and articles for the Monitor have won Golden Trowel Awards.
As an accredited Horticultural Judge for the American Rose Society, I have judged the Queen of Flowers on two continents. I currently serve as a member of the permanent jury for the Biltmore International Rose Trials.
In addition, I'm an international award-winning advertising copywriter and broadcast producer with clients including The Discovery Channel and White Flower Farm."
Lynn
Check out Lynn's book!