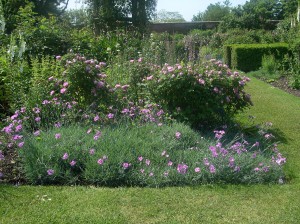 Welcome to the one rose chore that scares the heck out of most rose growers.
As you probably know there are as many viewpoints on pruning roses as there are rose growers.  Most of them complicated and quite frankly intimidating.  But, keep in mind those techniques were developed for Exhibition and Cut Flower roses.  Pruning Garden Roses is actually quite simple.
Be guided by how you are using the rose in the garden.
Garden Roses come in all different sizes and shapes – like most plants do.  How you prune them totally depends on you.  That's right you – and what size and shape you want that particular rose plant to be in your garden in that spot.  If you want a tall hedge then prune it tall.  If you want a short mass planting then prune lower.
Also keep in mind that by cutting away weak or old growth, you are actually inspiring your roses to put out fresh, vigorous new growth.  This natural cycle keeps your roses at their peak.
So don't think of it as pruning.  Think of it as rejuvenating your roses.
We have just a few simple rules of thumb for you:
Always start by pruning out dead wood.  Why?  Because it's dead and you can't make a mistake.  Gets you warmed up!
Take out weak or damaged growth.  Just trust your gardener's instincts to recognize branches that aren't full of vigor.

Never worry about making a mistake.  It'll grow back.

Take out crossing canes
Look for outward facing bud eyes (The Pruning Video will show you what I'm talking about)
Prune to the height you want the rose to be.

Don't try to keep a tall rose short.  It won't be happy.  If you want a rose in a particular spot to be short than plant a short one!

Every now and then you will take out an old cane that no longer produces growth and blooms.  We label that kind of cane "bloomed out".  Take it out at the ground level and you'll be amazed at the new growth you'll see in spring.
Pruning isn't just for "pruning season".  Feel free to shape your roses all season long like you would any other plant in your garden.
In the end trust your gardener's instincts.  You know what you are doing so do it!
We've prepared some videos for you and we advise you view you them in order.  And as always feel free to ask us a question!
For further reading:
Read the article by Gregg Lowery of Vintage Gardens titled Pruning
Here are the videos
Start with the introduction to pruning roses. Then watch the 2nd one which is Pruning Roses. The other three videos go into a bit more detail depending on how the rose grows and they are optional. The first two will teach you everything you need to know!