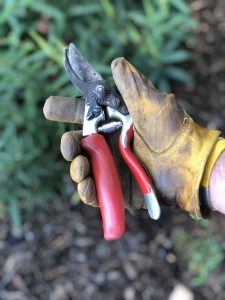 My Rose Pruning Tool Kit
I once sat down and figured I've probably personally pruned over 25,000 roses during my rose career. That's a lot of outward facing bud eyes! I've learned some things, made mistakes and many a time wished I hadn't cut that cane just a few seconds after I did!
What I have learned is good tools make the job a whole lot easier. I get asked a lot about which tools do I use. Here are my personal tools and below links to where you can purchase them.
Felco 5-7 pruners with the rotating handle. The work horse of my rose gardening. I've owned two pairs and the only reason for that is I lost the first one! My current pair are around 20 years old and have pruned tens of thousands of roses. I keep the blades sharpened and have even replaced them a few times – something very easy to do. The rotating handle is designed to take pressure off your wrist muscles. I've learned over the years it can sometimes get gummed up and will no longer easily rotate. A trick I discovered is to gently slip it off and clean it up with some WD-40.
Felco Leather Holster. Hey, You need something to carry your pruners in!
Felco F-200A-60 24″ lopper. I love these. They make pruning larger stems and cutting out old canes a cinch. Like my Felco pruners I can replace the blades if need be. I've tried a lot of loppers in my day and while these aren't the cheapest, they have been the most durable and smoothest to use. This really is a case of you get what you pay for!
Corona RS 7041 Pruning Saw. I realize it may seem odd for a Felco man not to have a Felco Pruning Saw, but I've used Corona models for years and found them to be durable and more affordable. I still have an old wooden handle pair. But if you want to go all Felco they make a nice pair as well. The Felco F-600
The Felco F-7 pruners I use can sometimes be too big for folks with smaller hands. If this is you here are a couple of other pairs to look at.
Felco F-8 Classic Pruner
Felco F-6 Classic Pruner For Smaller Hands
Felco F-9 Classic Pruner For Left Handers
Last don't forget a good pair of gloves.  I love gauntlet gloves because they also protect your wrist and forearms.
When it comes to gardening, almost nothing is better than good tools. They are almost as good as free plants!